EnviroVoters Voter Guide 2022
This guide has everything you need to know about deadlines, registration resources, and submitting your ballot for this year's midterm elections. All registered voters in California will receive a mail-in-ballot as part of the universal mail-in voting bill passed in 2021. 
BALLOTS WILL START ARRIVING WEEK OF OCTOBER 10, 2022.  
Vote-by-mail ballots must be postmarked on or before Election day and received by November 24, 2022. They can also be submitted in-person to a ballot drop box, a voting location, or your county elections office by 8:00 p.m. on November 8, 2022.
In-person voting locations will offer voter registration, replacement ballots, accessible voting machines, and language assistance to those who need it.
Vote centers open in all Voter's Choice Act counties on October 29, 2022.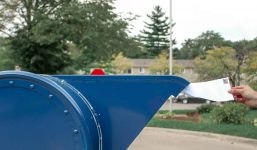 How to fill out your ballot:
1. Complete your ballot (check out our endorsements here). 
2. Securely seal ballot in official return envelope. 
3. Sign and date official return envelope before submitting ballot. 
How to submit your ballot:
1. By mailing it to your county elections office. Find your county elections office HERE.  
2. By delivering it in person to any polling place in the state on Election Day between 7:00 a.m. and 8:00 p.m. Find a polling location near you HERE. 
3. By dropping your ballot at a designated drop-off location or into a ballot drop box within the state by 8:00 p.m. on Election Day. Find a ballot drop-off location HERE. 
4. By authorizing someone else to return your ballot on your behalf. If you are not able to personally drop off your ballot, you can authorize another individual to do so for you. They cannot be paid on a per-ballot basis to submit your ballot. You will find said authorization on the outside of your official ballot envelope.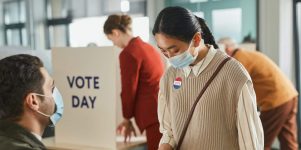 1. Polls will be open from 7:00 a.m. to 8:00 p.m. on the Election Day, November 8, 2022. Find your polling location HERE.  
2. Early Vote in Person is available for 10 DAYS prior to Election Day in California's Voters Choice Act Counties. Voters in these counties can vote in person starting 28 days before Election Day.
3. If you are voting in person, you MUST bring your mail-in ballot you received in the mail with you to be voided at your polling location.  
For registered voters:  
For unregistered voters: