SB 253: How EnviroVoters Got the Biggest Climate Bill of the Year to Pass
California enacted the most impactful climate law in the nation in 2023: Senate Bill 253. 
By finally requiring the largest U.S.-based corporations to publicly disclose ALL of their greenhouse gas pollution, SB 253 has accelerated the entire world's fight to hold industry accountable for their contributions to the climate crisis. 
But without California Environmental Voters leading a nearly three-year-long effort, our state could not have achieved this internationally impactful milestone.
The first time Senator Scott Wiener introduced the Climate Corporate Accountability Act, the bill did not even make it out of the Senate Appropriations Committee.
Around the same time, we were spearheading an accountability campaign calling on the California Senate's Democratic leaders — Senate Pro Tem Toni Atkins, Majority Leader Robert Hertzberg, and Energy Chair Ben Hueso — to step up their climate leadership.
And it worked.
In 2022, our advocacy helped the bill pass the Senate but was killed in the Assembly by ONE vote.
An accountability campaign ad we ran in 2022 calling out Pro Tem Atkins for failing to lead on climate in 2021.
In January of 2023, Senators Scott Wiener, Lena Gonzalez, and Henry Stern reintroduced the bill as SB 253 as part of the Corporate Accountability Bill Package.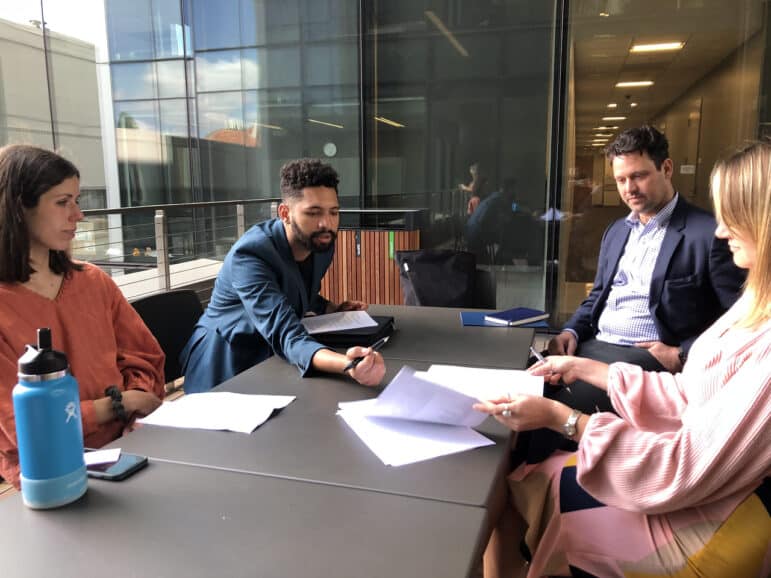 Our Advocacy Partnership Coordinator, Marquis Mason, speaks to Assemblymember Josh Newman's staff in the Capitol to support SB 253 alongside other important environmental bills.
Every step of the way, EnviroVoters was there
Along with cosponsors Carbon Accountable, Ceres, and The Greenlining Institute — we got every major environmental group to support the bill. They also helped us broaden our campaign's reach by securing support from major corporations such as Google, Apple, Microsoft, Salesforce, Ikea, and more.
Ahead of each committee hearing, we met with committee members to ensure we had their votes. Throughout the year, our team met regularly with California Air Resources Board administrators, the Governor's office, and the Assembly Speaker's office to clear up misinformation and maintain awareness and priority for the bill.
Despite support from these big corporations, environmental leaders, and government officials, we knew legislators needed to see encouragement from their own constituents to be convinced to vote yes on the bill.
So we drummed up support among our members at every step of the legislative process. Our supporters made over 500 calls and sent over 4,000 emails to their elected officials. We also trained members to advocate to their representatives face to face and set up 21 of these constituent meetings.
In the days before the final Assembly vote, support letters flooded in from corporate supporters and environmental allies, and the LA Times published an editorial urging the Assembly to pass SB 253.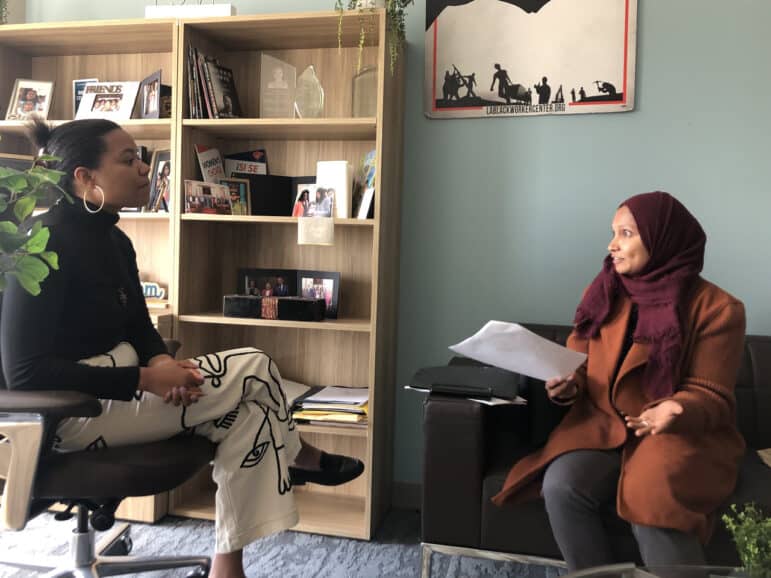 Our Legislative Affairs Manager, Fatima Iqbal-Zubair, speaks to Senator Lola Smallwood-Cuevas's staff member about SB 253.
SB 253 news mentions speak for themselves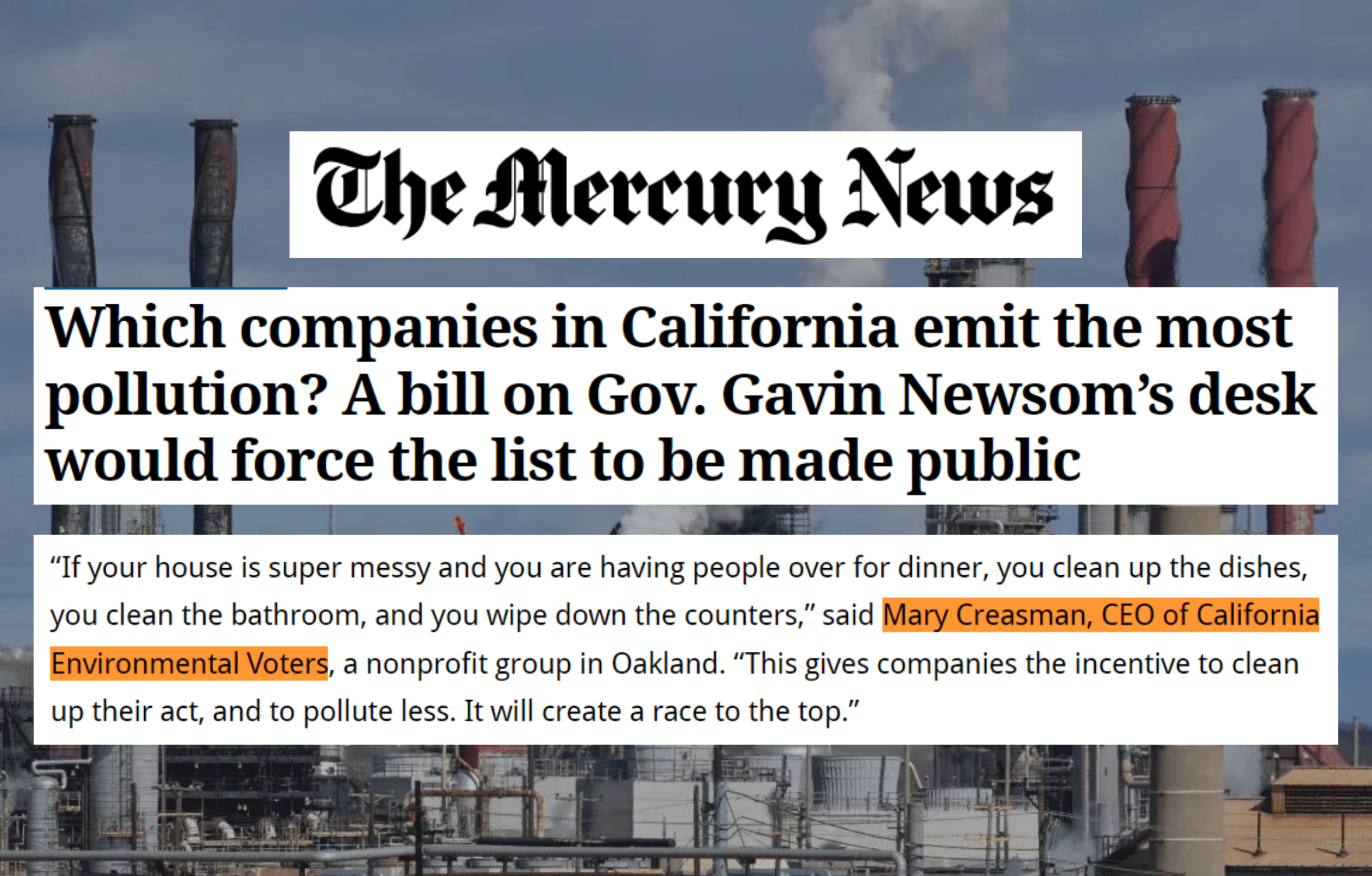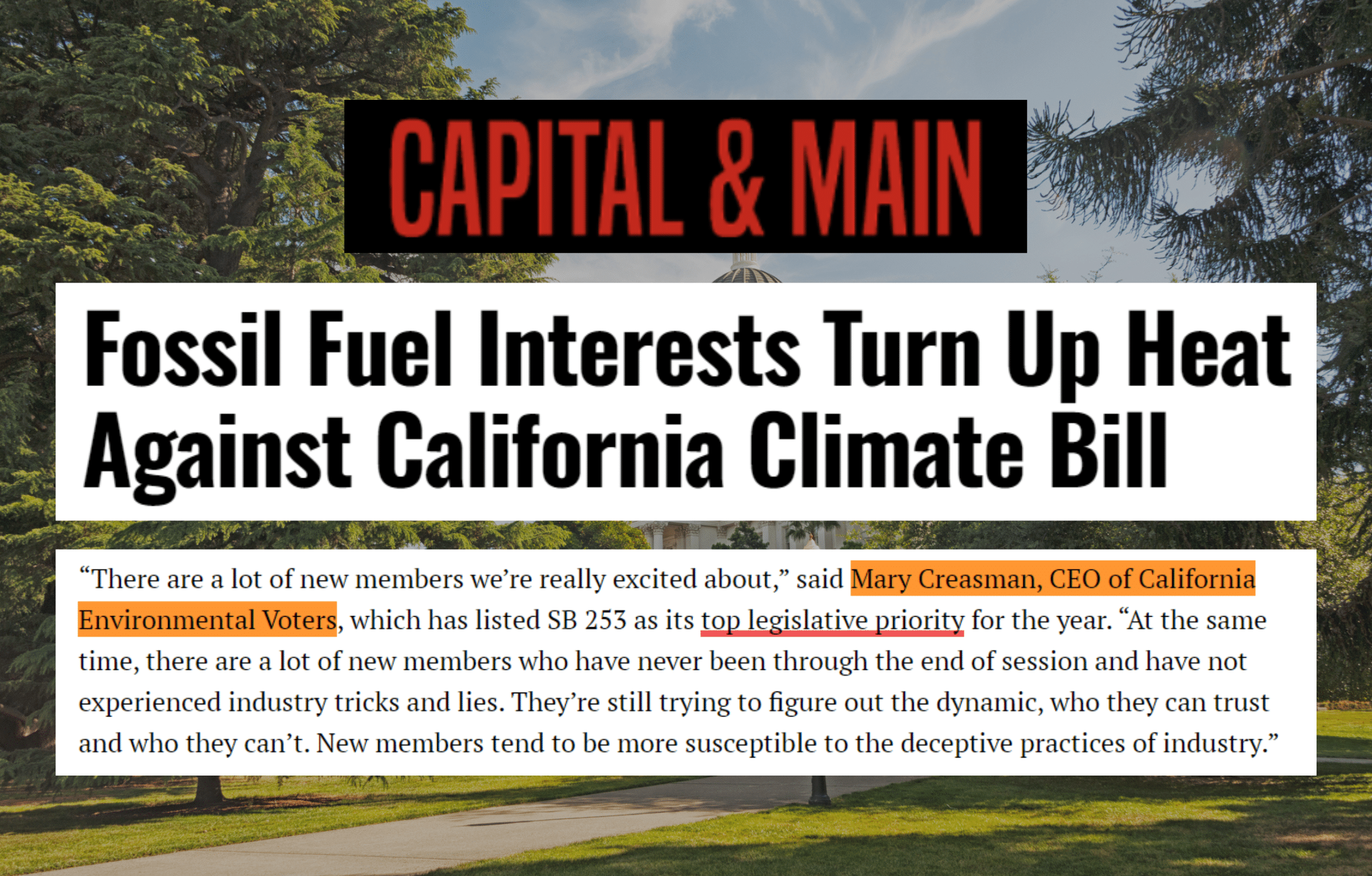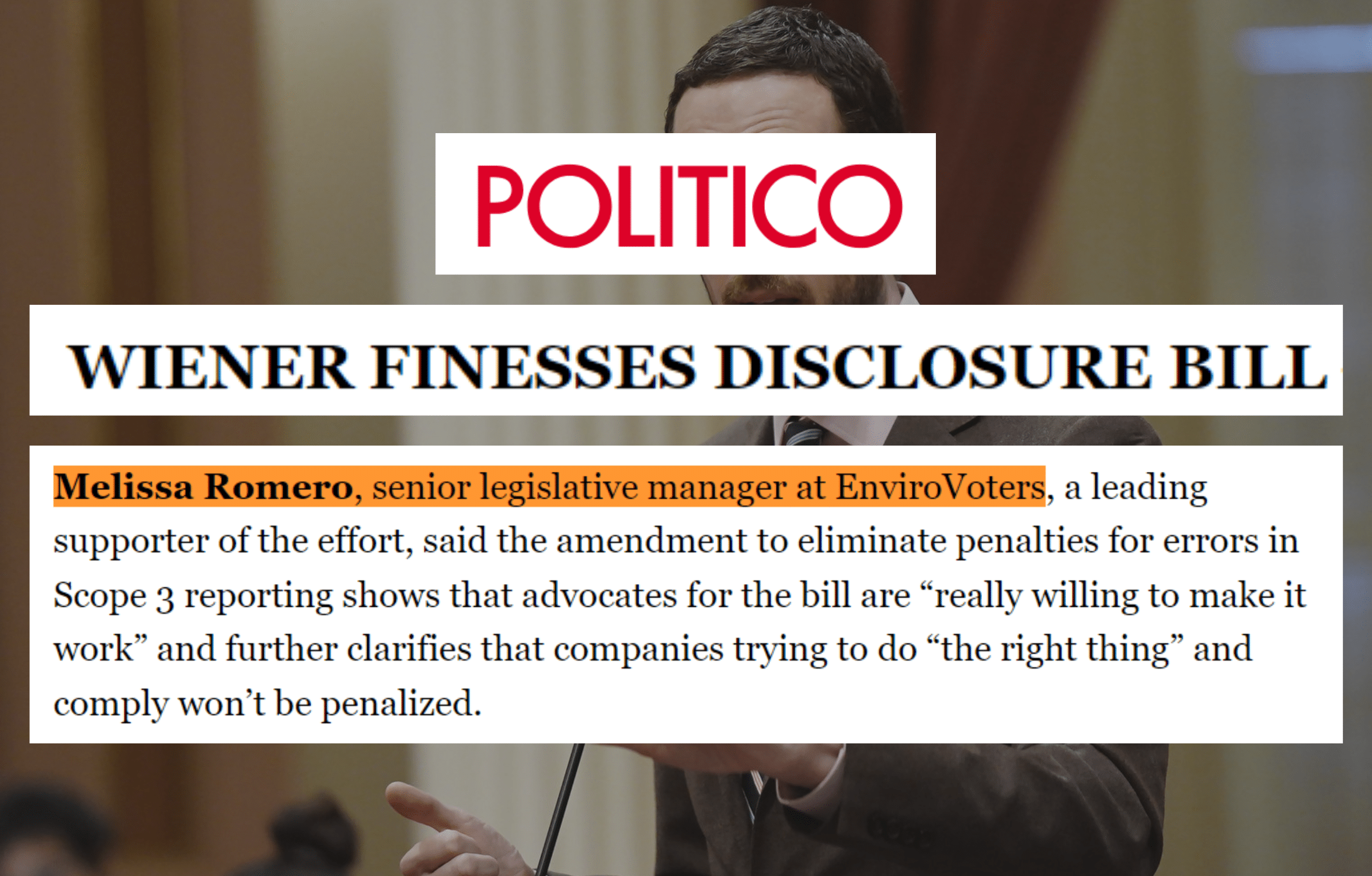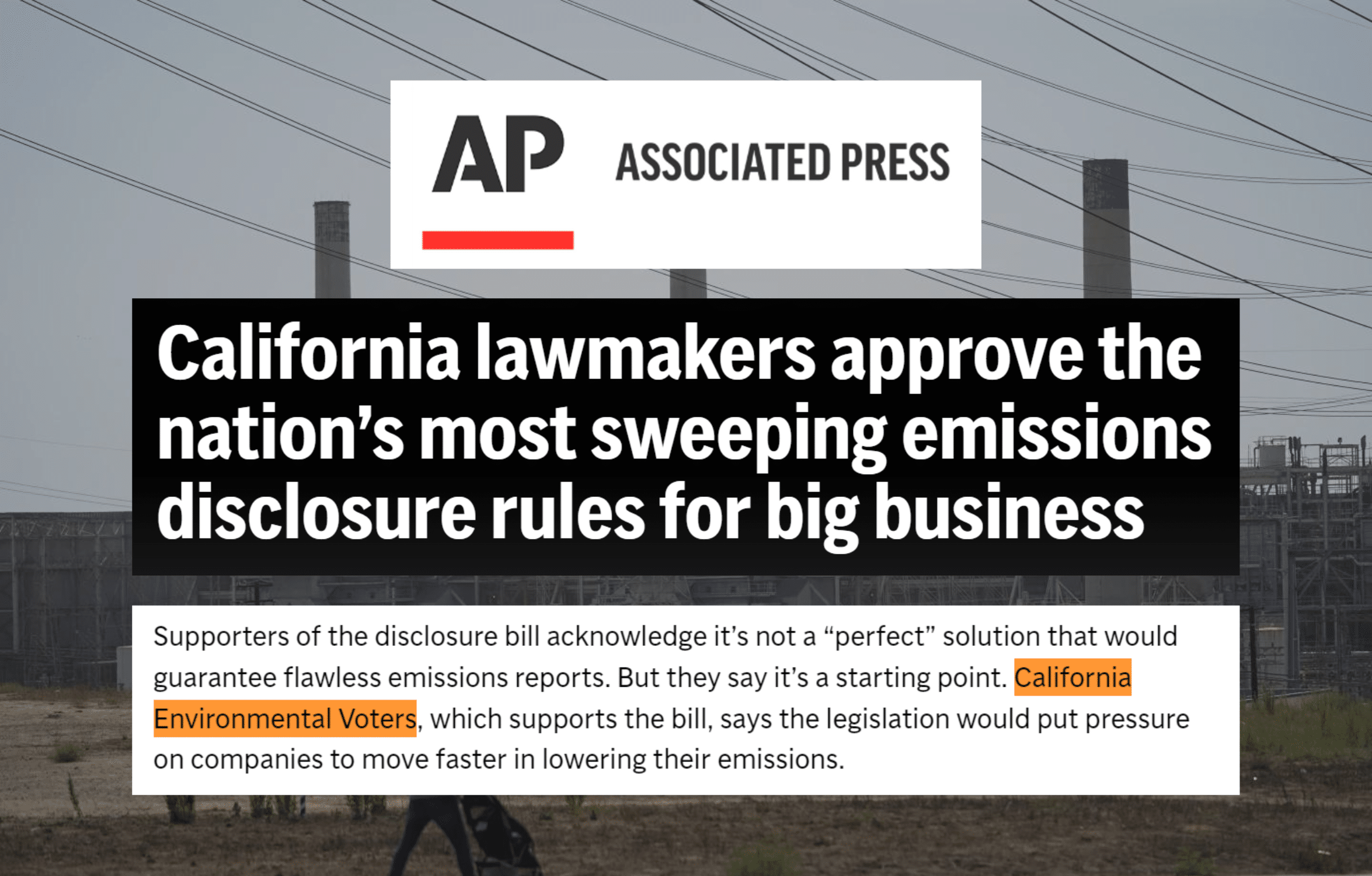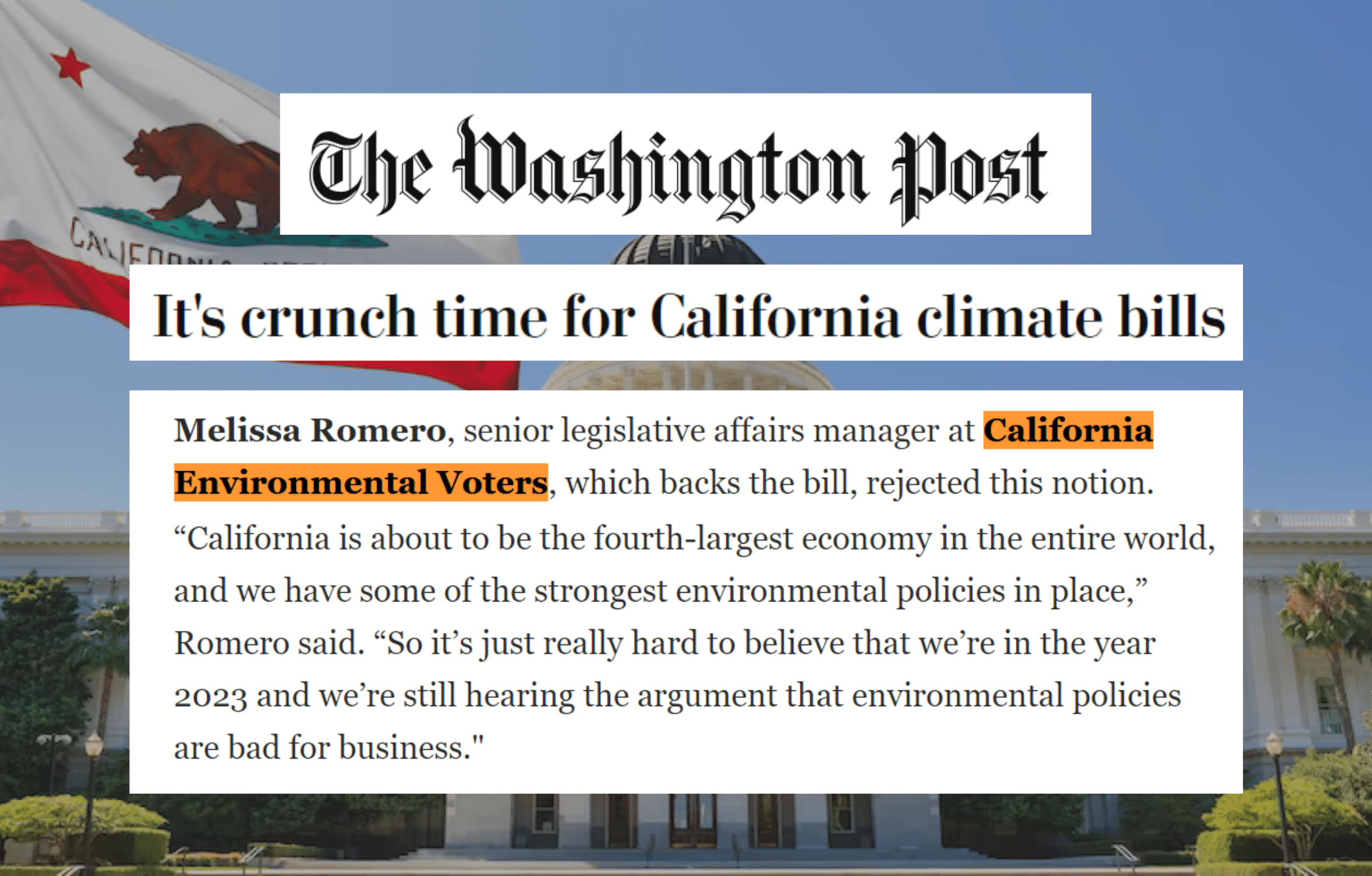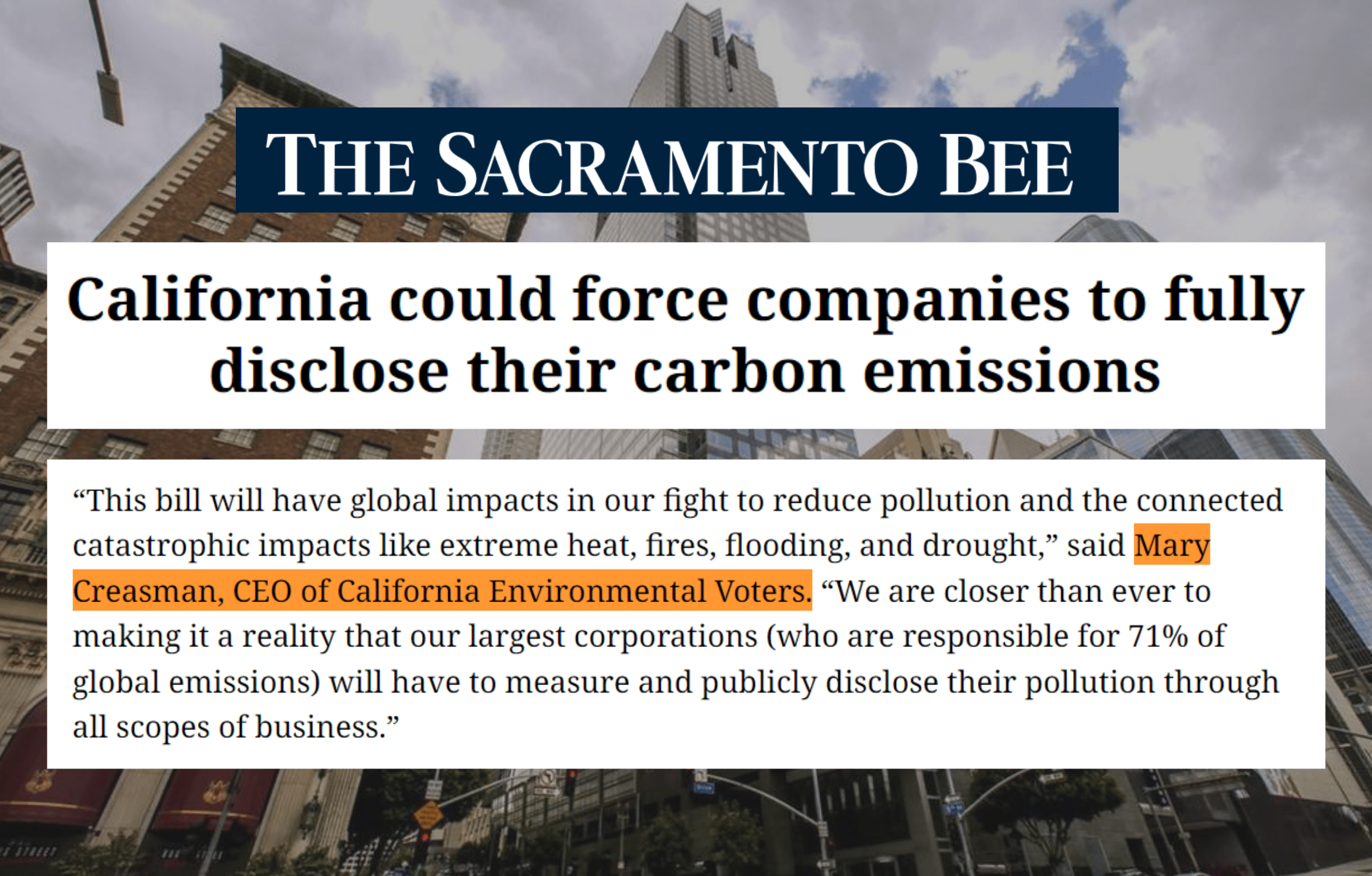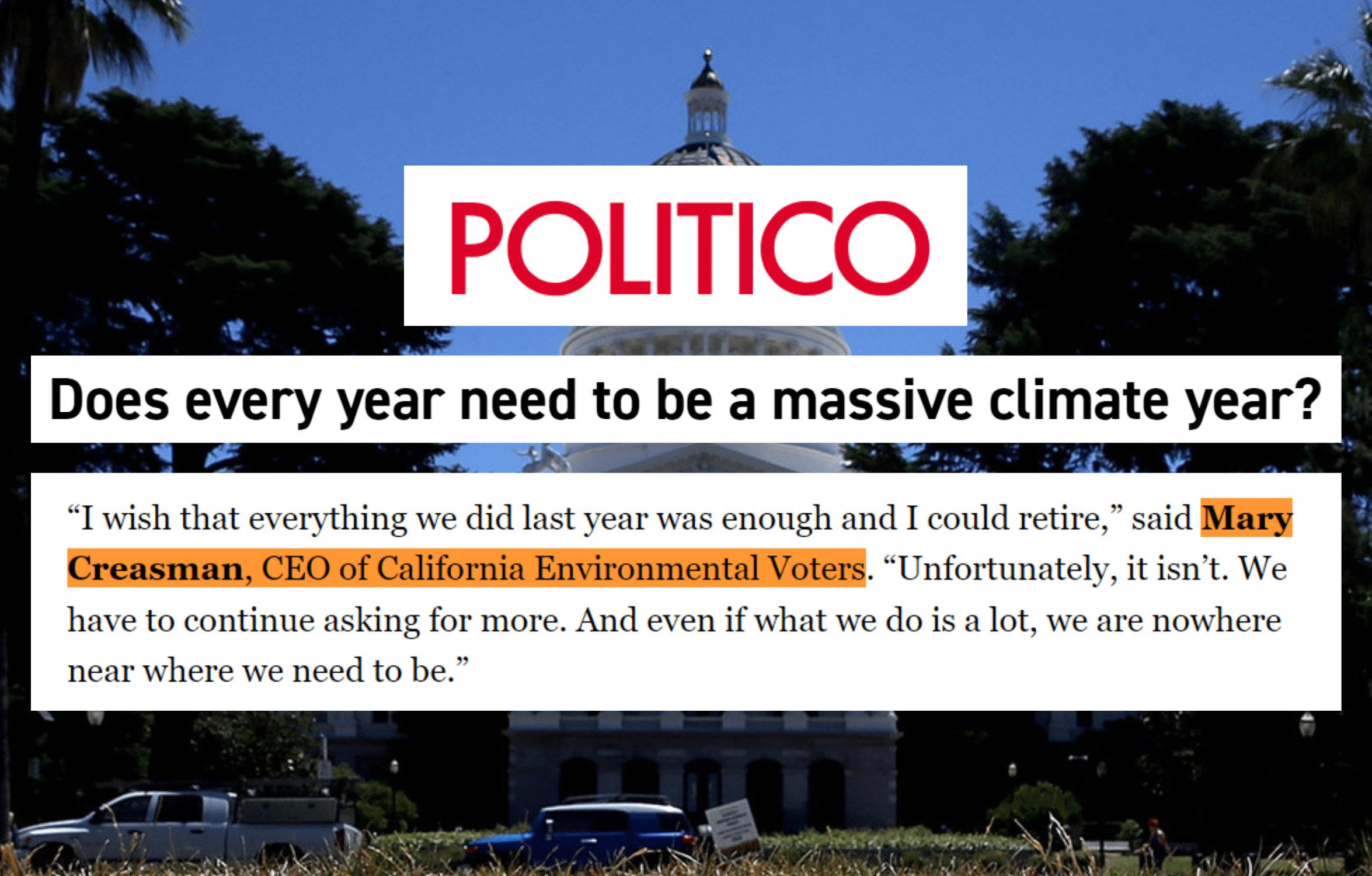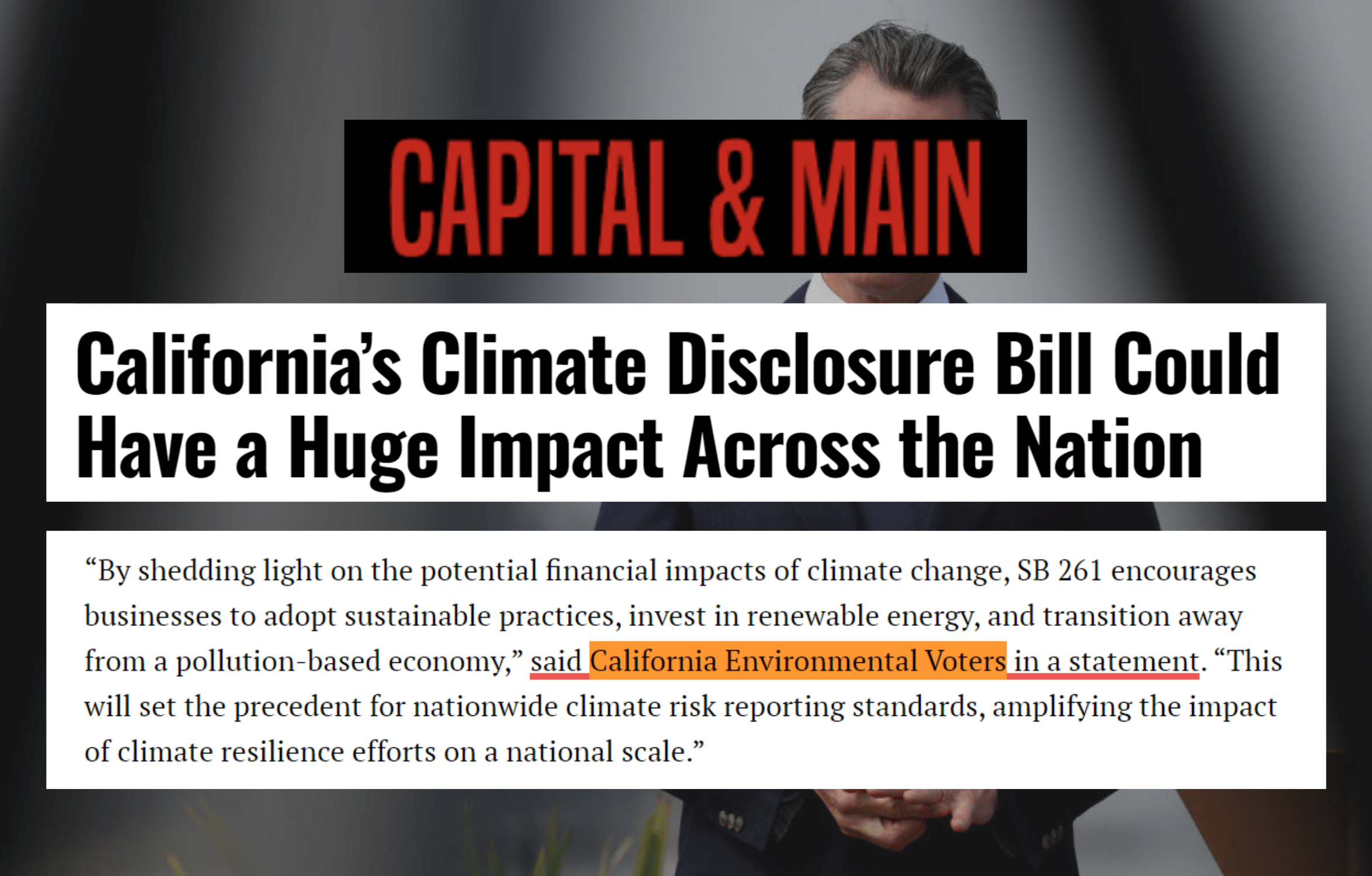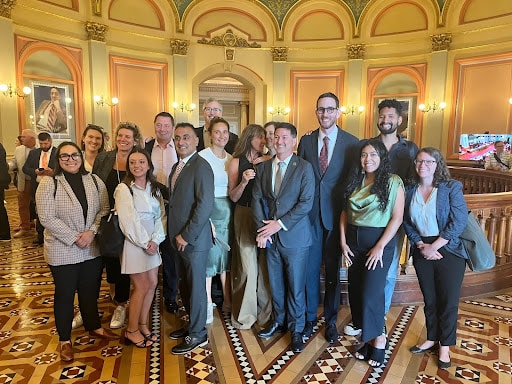 On September 11, 2023, EnviroVoters Deputy Legislative Director Melissa Romero and Advocacy Partnership Coordinator Marquis Mason celebrate with climate champions including Senator Scott Weiner (author of SB 253), Assemblymember Ash Kalra, and Assemblymember Chris Ward after the Assembly passed SB 253 and sent it on to the Governor's desk to be signed into law.
On September 11, 2023, SB 253 passed the Assembly with a 49-20 vote and sailed through the Senate with a 27-8 concurrence vote. On October 7, Governor Newsom signed the bill into law along with SB 261, from our corporate accountability package.
It's no exaggeration to say that Senate Bills 253 and 261 will change the world. By enacting the nation's first comprehensive corporate emissions requirements, California is creating the foundation for meaningful accountability on climate worldwide. A recent study in Science found that mandatory emissions disclosures could result in a whopping 70% reduction in total corporate pollution long term.
We are so proud of our team and grateful for the support from all of our allies to achieve this monumental victory. In 2024 and beyond, we will continue to fight for climate justice, for resilient, healthy, thriving communities, and for a democracy and economy that is just and sustainable for all.
Join us as we build the political power to solve the climate crisis, advance justice, and create a roadmap for global action.