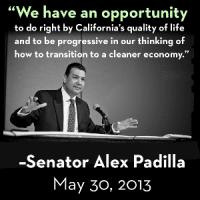 Last Thursday, a bill that would have banned single use plastic grocery bags in California narrowly failed to pass the Senate floor. The bill is dead for this year, but the movement to ban the bag is growing.
Thanks to thousands of CLCV members for making your voice heard in support of the bag ban. Although last week's result was disappointing, the vote was closer than ever. And Senate Bill 405's author, Senator Alex Padilla, is committed to bringing the proposal back to the Senate next year.
Californians have made great progress in phasing out single-use plastic bags. More than 75 local communities, including San Francisco and Los Angeles County, have passed ordinances that ban the bag. According to Californians Against Waste, these local bans mean 3 billion fewer bags each year, and ordinances under consideration have the potential to reduce plastic by another 2-3 billion bags annually.
We're not giving up on this important effort to curb wasteful plastic pollution, and we need you to do one small thing to keep up the fight: watch and share this inspiring video of Sen. Padilla speaking about banning plastic bags on the Senate floor last week:
This excerpt is from Sen. Padilla's May 2013 introduction of SB 405, a bill that would have banned single-use plastic bags statewide. Though the bill narrowly failed on the Senate floor, he will keep up the fight in 2014.
Do your friends know that there are still 14 billion bags being used in California each year, with only a tiny fraction being recycled? They'll need to get involved to show public support is on our side.
The good news is a powerful coalition of environmentalists and business leaders came together for significant progress on this issue. With your help, we convinced more lawmakers than ever before that a statewide bag ban is the right path forward for our environment and our economy. In fact, the 400-member California Grocers Association came out in favor of a statewide ban for the first time this year. And that's why we have to stay organized, stay connected with supporters like you, and keep the pressure on.
While Senate Bill 405 may have fallen short, the campaign to eliminate plastic waste is succeeding. We're in this for the long haul, and we hope you'll stay the course with us. Help us build support for next year's statewide effort by watching and sharing this inspiring video on Facebook and Twitter.
Posted on June 5, 2013
in