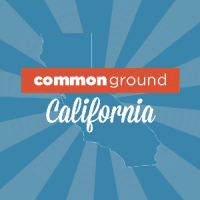 Last Tuesday, a coalition made up Environmental Organizations, Labor and Tribes known as Common Ground California held a press conference and Capitol lobby day committing to protect the California Environmental Quality Act (CEQA).
You know what it's like to be on a great team: counting on each other, inspiring each other, strengthening each other – there's nothing else like it. Being there in Sacramento on Tuesday, I could feel that team spirit and determination from members of Common Ground California. (coalition website; facebook).
 
"First, do no harm."
 
That's how environmental defender Senator Noreen Evans began her remarks, sending a clear and simple message to kick off the event. Sen. Evans has been a strong supporter of air and water quality, and she was the event's host. She continued, "The California Environmental Quality Act was designed to protect California communities, and it has for over forty years. I stand committed to protect California from corporate polluters and any degradation of our environmental laws."
 
Then came the big news: a new study was revealed showing that CEQA has not hampered economic progress, despite assertions by some industry groups.
 
The Labor Management Cooperation Trust released a landmark report which found that since CEQA became law in 1970, California's per capita GDP, housing relative to population, manufacturing output, and construction activity grew as fast or faster compared to other 49 states.  Read the full report here. »
 
For more than 40 years, California's environmental safety laws have been a firewall protecting our environment and communities from corporate polluters trying to make a quick buck at the expense of the health and safety of Californians. In recent years, this keystone law has come under heavy attack in the legislature and is at risk of deregulation. The Common Ground California coalition has allowed organized labor, environmentalists, industry, and tribes to speak as a collective voice opposed to any deregulation of the California Environmental Quality Act.
 
CLCV's CEO, Sarah Rose, said at the conference, "The California Environmental Quality Act gives every community a voice in development. Whether it be where to locate an incinerator or a power plant, CEQA gives every Californian a right to weigh in. Those that would like to see California's environmental laws deregulated seem to want to silence that voice."
 
As the legislative session moves forward, the full scope of the legislation seeking to alter CEQA will become more realized. CLCV and our allies, including the organizations making up Common Ground California, will be working closely together to ensure that California's environmental laws are upheld and that the safety and health of those who reside in this great state are protected.  
 
At the end of the day, coming together for a better environment is what CEQA is all about. It's about communities coming together to plan for a future we all share. And for advocates like us, it's about coming together with a diverse and growing list of partners to make sure our voices are heard. Holding our elected officials accountable for the future of CEQA is the only way we will keep it strong for California communities.
 
With a little teamwork in Sacramento and thousands of passionate supporters throughout the state, CEQA works as well today as it has for the last four decades.
Posted on March 20, 2013
in